An eleven-time Emmy nominee and three-time Outstanding Lead Actor Emmy winner, Christian Jules Le Blanc, stars as Michael Baldwin on CBS's number one rated daytime drama, The Young and the Restless.
Christian joined the cast of The Young and the Restless in October, 1991, departing in 1993.  He returned to the series in April, 1997.  A slick attorney, Michael has found happiness in his marriage to Lauren Fenmore (Tracey E. Bregman), despite the antics of his troubled brother, Kevin (Greg Rikaart) and his unpredictable mother, Gloria (Judith Chapman).
Christian's television appearances also include the role of Kirk Mc Coll on As the World Turns, a starring role as a regular on In the Heat of the Night with Carol O'Connor and Howard Rollins, and many guest appearances including Perry Mason, Cheers and Gabriel's Fire. He produced and starred in his first short film, Puppy Love, with actress, Grace Zabriskie which was honored as the Outstanding Short Film at the Los Angeles International Short Film Awards. 
Le Blanc's stage credits include Ladies In Retirement, in which he starred with the legendary actresses Julie Harris and Eileen Brennan. More recently, Le Blanc appeared in the Los Angeles Times Pick-of-the-Week, No Orchids for Miss Blandish. In 2008, he appeared in The Catonsville Nine, in 2009, Appearances to the Contrary and in 2011, The Tennessee Williams Literary Festival. Christian has also appeared in the online series: Venice the Series, Grove the Series, Fumbling Thru the Pieces, and The Stafford Project.
Le Blanc is also a very busy host and MC for myriad organizations and charities. For 17 years he has co-hosted Kate Linder's Afternoon Tea with Y&R co-star Kate Linder. As of 2015, these teas will have raised over $1,000,000 for charity. In 2014 alone, Christian served as honorary chairman of the charities Dine Out for Life, Art Against AIDS, and Each One Save One in New Orleans. He also co-hosted the Celebration of Hope fundraiser in Markham, Ontario while continuing his work with Kate's teas in Calgary, Toronto and Vancouver.
Christian is a self-taught, award winning, artist who has shown in Los Angeles and Washington D.C. and whose work is currently on display at the Kevin Gillentine Gallery, in New Orleans. His other interests include writing (He is currently working on a children's novel which he is illustrating), genealogy, and travel.
Christian, an army brat, was born in Fayetteville, North Carolina, but calls New Orleans, Louisiana, home. He is one of the eight children of Andre and Alice Le Blanc. His father was a decorated veteran in the U.S. Special Forces.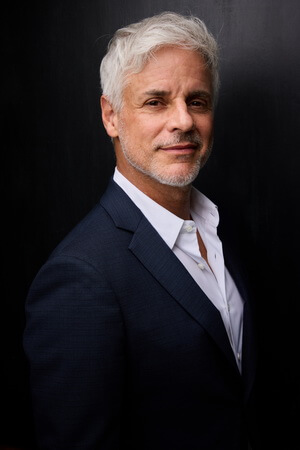 CHRISTIAN JULES Le BLANC
Stars as MICHAEL BALDWIN